www.ELBAREPORT.IT domenica 09 luglio 2006
UNA RAGAZZA DELLE ISOLA RACCONTA: "UN UOMO NEL SUO BAGNO"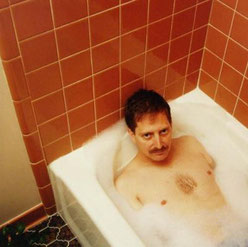 Fiona Buttigieg trentaduenne originaria di Malta, è nata in Inghilterra e da qualche tempo ha deciso di vivere all'Isola d'Elba. Con le sue opere, ordinate in una curiosa e suggestiva mostra fotografica, si è inaugurata sabato scorso la nuova galleria d'arte "Salon K" di Stoccarda.
"Boys Will be Boys", che vuol dire 'I ragazzi saranno sempre ragazzi' è lo sguardo di una fotografa agli uomini durante i loro rituali del bagno. I soggetti di questa serie sono tutti americani, fotografati mentre Buttigieg studiava per il master's di belle arti all'università di Atlanta, nella Georgia.
Questa serie di foto e' già stata esposta in diverse gallerie d'arte internazionali ed e' stato il soggetto di un programma della TV Canadese. Inevitabilmente, queste foto sfidano lo stereotipo dell'immagine dell' uomo nella fotografia.
Fiona Buttigieg e' di origine Maltese ed è nata in Inghilterra nel 1974. Dieci anni dopo la sua prima visita all'isola d'Elba, si e' stabilita qui permanentamente. Le sue foto in bianco e nero, che parlano della vita quotidiana sulle isole del mediterraneo veranno esposte ad agosto alle scuole elementari di Marina di Campo nell'ambito delle esposizioni "Le Stanze dell'Arte", proposte dal comune di Campo nell'Elba. Boys Will be Boys" resterà a Salon K fino al 30 agosto.

Bussenstrasse, 68 Stuttgart  www.salon-K.org www.fionabuttigieg.com